Birthday Freebies for Students in Malaysia
Posted on Sep 03, 2015 by Shu Wen
(Credit to Lee Xiang Wei)

You really don't have to pay much to be merry on your birthday! Know that restaurants or retail stores are ready to wish you happy birthday with something special. Here, we've got the most up-to-date list of freebies available to birthday boys and girls. Simply pop by these stores when you're about to mark another year!
Entertainment & Leisure
(Source: www.happybirthdayfunny.org

)
#1 SUNWAY LAGOON
Itching for thrills and spills? Just flash your MyKad or passport at ticketing counter to get a FREE entry to Sunway Lagoon for a period of 7 days from your birthday. Since no celebration is complete without a party, 4 of your families and friends get 30% off too.
#2 NEWAY KARAOKE
Fancy celebrating your birthday with your regular karaoke night? Neway offers 1 Free head charge + sparkling cooler + Birthday cake 5 DAYS before or after your birthday. Don't forget to bring 5 friends or more along.
#3 REDBOX & GREENBOX KARAOKE
If you're more into Redbox and Greenbox, you can get Free Karaoke from them 3 days before and after your birthday. Since the treat is only for members, make sure you sign up for one.
#4 GSC CINEMA
For movie lovers, you get to snag 2 free movie tickets and 20% discount at Glitters Café. Just make sure that you register your details online in advance!
#5 MBO CINEMA
MBO will give you 2 complimentary movie tickets on your birthday. How cool is that? Even better, you don't need to fork out for registration fee!
#6 TGV CINEMA
Enjoy a free movie with one other friend of yours when you sign up for TGV Movie Clubs on your birthday month. Plus, you will get a free regular popcorn to go with your movie night.
TELCO
(Source: imgkid.com)
#1 CELCOM
Get FREE Calls & Texts  on your birthday and next 6 days to your 15pax (CELCOM only) if you are a XPAX, SOX, or UOX user. If you are Celcom normal prepaid user instead, you will also get RM10 credits FREE once you reload a minimum or RM 10 on your big day.
#2 MAXIS
You are entitled for UNLIMITED FREE BIRTHDAY CALLs all day long to any Maxis or Hotlink number if you are a Maxis/Hotlink user.
#3 DIGI
To celebrate your joyous occasion, Digi's Birthday Bonus gives you 50% more credit when you reload your Digi Prepaid Account on your birthday week.
RESTAURANTS & CAFES
(Source: fastfoodmenunutrition.com)
#1 SEOUL GARDEN
Are you a big eater? Then you will want to drop by Seoul Garden and get a free buffet on your birthday! Ask 5 paying friends to tag along and enjoy the free meal 3 days before or after your birthday. What are you waiting for? Sign up  for My Preferred Card now.  
#2 SOUGUN JAPANESE BUFFET RESTAURANT
If you are a Japanese food lover, why not treat yourself to a free Japanese buffet at Sougun & Saisaki Restaurant on your birthday week? Just bring along your IC or passport and 3 more paying friends. Even better, you can get SQUEEZIT worth RM6.90 too if you are a  member of BCARD.
#3 PAPA JOHN's PIZZA
Sign up for a Papa@Home Loyalty Card today and get a FREE 9" Hawaiian Papa on your birthday month.
#4 WONG KOK CHAR CHAN TENG
Show up with your IC and get 1 FREE giant HK ice milk tea at Wong Kok Restaurant with minimum 5 persons dine-in (minimum purchase of RM30).
TEA TIME & DESSERTS
(Source: hyggeligt.dk)
#1 STARBUCKS COFFEE
Sign up for MyStarbucksRewards and get a free drink or treat on your birthday. One thing to keep in mind is that you only have 7 days to claim your rewards. Don't let it expire.
#2 BOOST
Pick up a VIBE card and get a free BOOST's drink on your big day. To top it all off, you will get a shiny silver VIBE card when you buy your first BOOST!
#3 CHATIME
Become a CHATIME Thirstea Card holder and get a birthday token of a free drink (RM6.50)on your birthday.
#4 BASKIN-ROBBINS
If you are an ice-cream cake lover, why not join the Birthday Club at Baskin-Robbins and get a FREE 2.5 oz scoop and a special discount on an ICE-CREAM CAKE on your birthday?
#5 TUTTI FRUITTI
Stop in on your birthday to get 20% discount for one cup/person as a birthday specials from Tutti Fruitti. Just prove it by flashing your IC or passport.
BOOKSTORES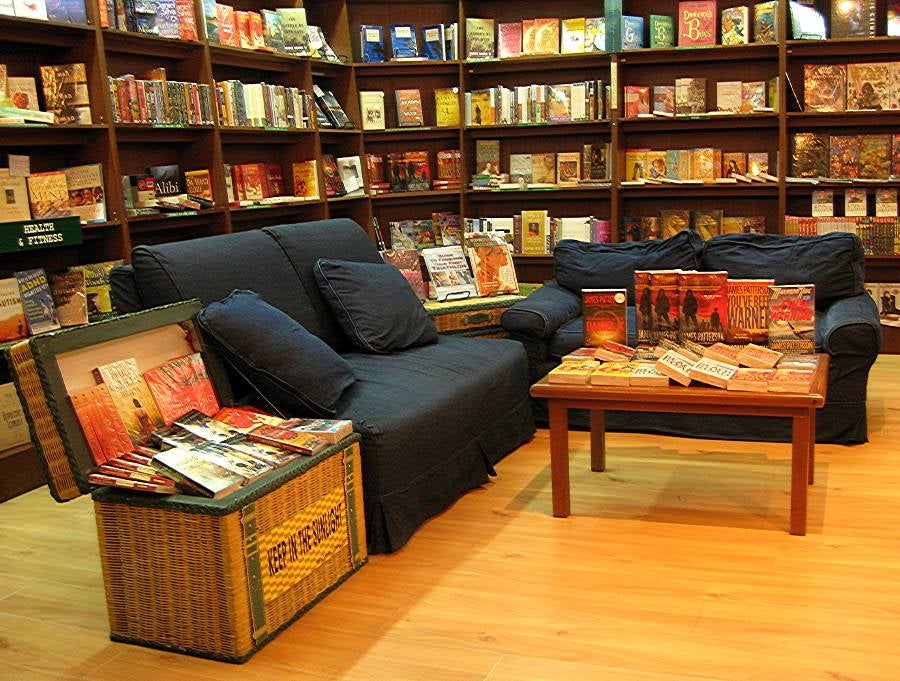 (Source: bibliomancy.kinja.com)
#1 MPH BOOKSTORE
Get 25% off on books on your birthday when you become MPH bookstore's MORewards member.
#2 POPULAR BOOKSTORE
Sign up for POPULAR's Student Card and receive countless special treats via email for your special day.
SHOPPING
(Source: chicagogenie.com)
 
#1 NUMBER76
Perhaps you want a makeover  as your big day looms. Number76 offers a FREE Ultrasonic hair treatment (worth RM250) on your birthday month.
#2 THE BODY SHOP
Join the Love Your Body Club of The Body Shop to get Birthday SMS treats and 25% off on full-priced items in the shop. With these Birthday treats, you can get up to RM250 maximum of discount amount each year. Wait no more! Pamper your skin with new products from The Body Shop.
---
Definitely the goofy one, this science geek Biology major adds her wacky and fun personality to the content marketing team at Easyuni. She believes she's a reincarnated life-form evolved to live off Reddit, Jdorama, Lay's chips and snark. This science geek who loves cosmetics works hard and does whatever it takes to get the job done. Fun-loving, funny, and full of laughter, she brings positive energy to this team and is always on the lookout for new and easy dessert ideas. Oh, and if sleeping was a sport, she'll definitely an Olympic star for that too!
Category: Country:
Malaysia
---
Related Articles
---
Questions/Comments
---
---
© Copyright 2015 easyuni Sdn. Bhd. (Formerly known as HESCAR Sdn. Bhd.). All Rights Reserved.
easyuni Sdn. Bhd. is MSC status company.